We have many photos above and under water. Photos from divesites in Bali, Flores, Sulawesi and Kalimantan in Indonesia, from Negros and Bohol in the Philippines, Koh Lipe in Thailand and from Redang and Perhentian island in Malaysia.
We also have photos from landscapes in Malaysia, France, Switzerland and Holland as well as many flower photos, insects, lizards, snakes, geckos and many other subjects.


All pictures on this website are copyrighted by Yves and Erika Antoniazzo.
We sell these pictures at a very reasonable prices to anyone interested. All you need to do is send us an email to make your order.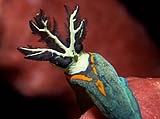 We, Yves and Erika Antoniazzo, have been diving since 1987 and started taking pictures using an autofocus camera in a home-made housing within a year of starting to dive. We soon upgraded to a Nikonos V camera with a strobe and later on also got a Sea & Sea Motormarine IIX camera. Only in 2003 we decided to go digital with a Sony cybershot to give it a try. When we saw the results we decided it was worth spending a bit more money on a good camera and bought the Olympus C-5050 and later on the Olympus C-7070, both of which give excellent results.We've been using these cameras with Inon strobes from 2004 till 2006.
All these pictures are available as RAW files with 5MP or 7MP resolution. The pictures come out sharp and can be magnified to poster size without any loss in quality.

After using these cameras for 3 years we finally decided to upgrade to SLR cameras. We find they are a lot harder to use and take a while to get used to, but they are well worth the effort, because of the largely improved picture quality.

We bought two SLR cameras: a Nikon D200 and a Canon EOS 350D each with a 105mm lens. We've been using these since the end of 2006.
These pictures are available as RAW files with 10MP and 8MP resolution.

In October 2008 we changed the Canon camera for a Fuji S5 using the same Nexus housing as for the Nikon D200, so that we can now exchange our ports and lenses and maybe save some money....or just buy more lenses and ports :)


| | | |
| --- | --- | --- |
| We used to run a divecentre on Perhentian island in Malaysia, so most of our pictures have been taken there, but we also took lots of pictures during our holidays and we've been travelling for the last year, so you'll also find pictures from other places. | | |
| | | |
| --- | --- | --- |
| | | It's easy to find pictures on our website. Just scroll along the menu to the left, in alphabetic order, to find the type of thing you're looking for and click on it, or use the search engine below. We have many great under water pictures and also on land shots of landscapes, animals, insects, buildings etc. etc. To find these, just click on "On Land Pictures" You'll find this at the top of each page, right in the center. You can also search by country, all you need to do is click on the country you're looking for at the bottom of the menu to the left of each page. To see a bigger image of the picture you like just click on the thumbnail and a bigger image will open. We offer a choice of several Best of... CD's, to see which pictures are on each just have a look at our section Best of CD's. They contain the best photos of each of the places we've been to, so they also give a quick view of our best photos for each site. |